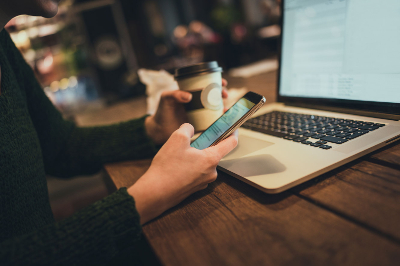 Please feel free to enroll in our online banking by going to the link here on our website. Once here you will be able to look at account balances, transfer between accounts, make loan payments and transfer money from accounts at other banks into your First Iowa State Bank account. We now have available online bill pay.  For those of you that would like this activated on your online account, please stop in or contact us so that we can have you sign the agreement.
First Iowa State Bank now offers FISB Online Services through Quicken® and Quick Books® software.  Keep better track of expenses with the ease of First Iowa State Bank's Online Services.
e-Statements
e-Statements - Just tell us to send your account information electronically, and we'll stop sending you those bulky statements.
To save time, excessive paper statements and promote going green for a eco-friendly environment, just email us by clicking here or stop by one of our offices in Albia or Eddyville.
Of course you can always change your mind at any time and start receiving your paper copies again by contacting First Iowa State Bank.
First Iowa State Bank Mobile Banking Application
First Iowa State Bank provides limited Online Banking functionality from most mobile devices with an Internet browser through our website. In order to use Mobile Banking you must have a mobile device. "Device means a supportable mobile device such as a cellular phone or other mobile device that is web-enabled and allows SSL traffic. You may also download a Mobile Banking application for the iPhone, iPad, or Android devices. We reserve the right to modify the scope of the Mobile Banking Services at any time.
We will not be liable to you for any losses caused by your failure to properly use Mobile Banking or your Wireless Device. You agree that when you use Mobile Banking or a Mobile Banking Application, you will remain subject to the terms and conditions of all your existing agreements with us and our affiliates. You also agree that you will be subject to the terms and conditions of your existing agreements with your mobile service carrier or provider (e.g. AT&T, Verizon, Sprint, T-Mobile, etc.). You understand that those agreements may provide for fees, limitations, and restrictions which might impact your use of Mobile Banking (for example, your mobile service carrier or provider may impose data usage or test message charges for your use of or interaction with Mobile banking, including while downloading the Mobile Banking Application, sending or receiving text messages, or other use of your Wireless Device. You agree to be solely responsible for all such fees, limitations, and restrictions.
If you use any location-based features of Mobile Banking you agree that your geographic location and other personal information may be accessed and disclosed through Mobile banking. If you wish to revoked access to such information you must cease using location-based features of Mobile Banking.
Mobile Banking is banking at your fingertips.  Access your accounts anywhere at any time with your smart phone.  Check balances, make transfers, pay bills and deposit checks all with our free app!  Check out our Mobile Banking/Mobile Deposit page for more details.
 Click on the appropriate badge to download the Android or Apple App.
 For Android devices click: https://play.google.com/store/apps/details?id=com.firstiowastatebank.mobile
For Apple devices click: https://apps.apple.com/us/app/fisb-albia-eddyville/id1467193915